A native of São Paulo, Brazil, Débora Waldman accompanied her family to Israel in a Kibbutz where she lived until the age of 14.
She then pursued her musical studies in Buenos Aires, in the Universidad Católica de Argentina. She is the only student in the history of this university that has been awarded two golden medals, both in orchestra conducting and composition.
In 2002, she perfected her formation in Paris (where she lives) with Janos Fürst, and with F.X. Roth and M. Levinas in the Conservatoire National Supérieur de Musique (CNSM).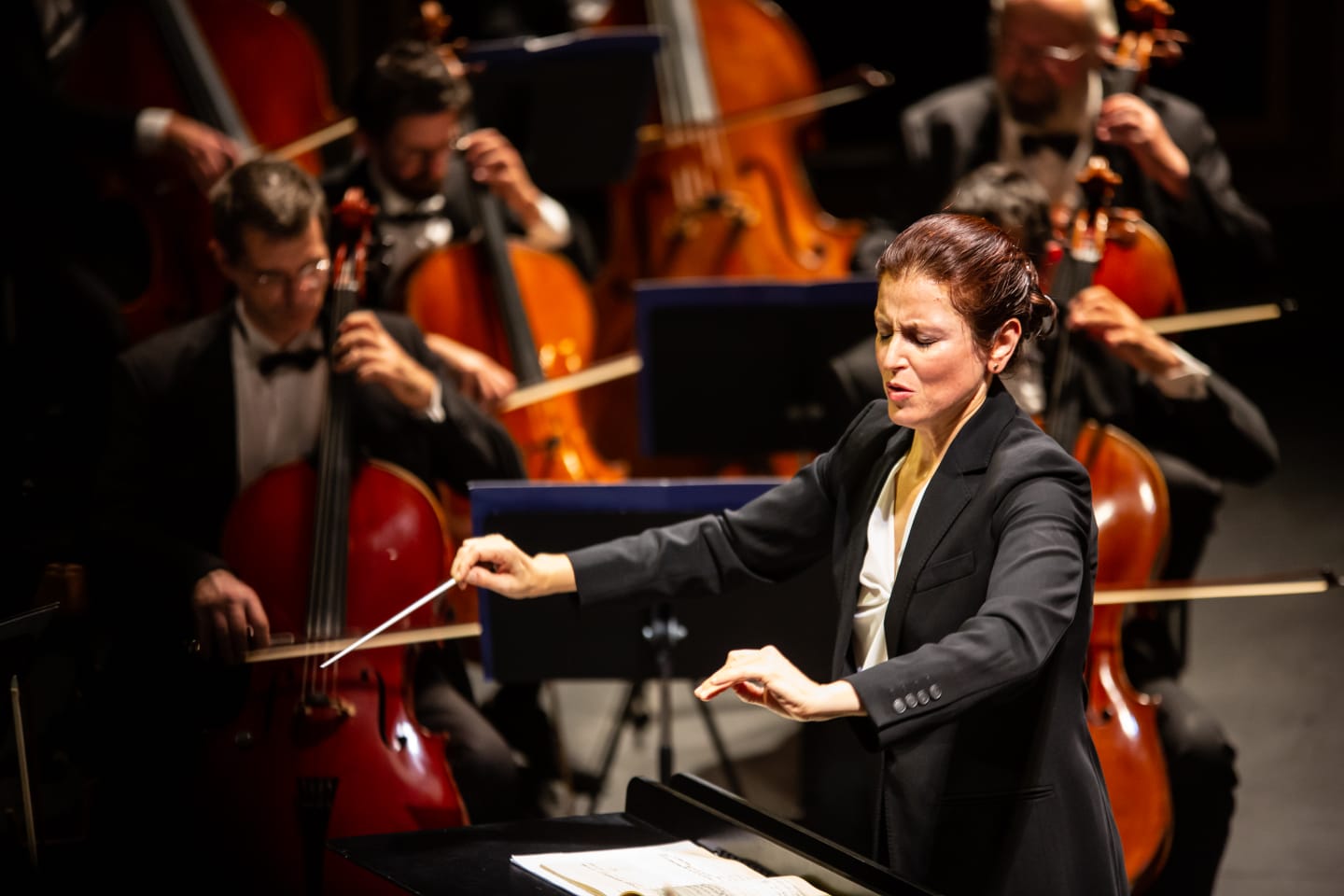 Debora Waldman becomes on 1st September 2020 the first female conductor of a National Orchestra in France, the Orchestre National Avignon-Provence. Her contract is renewed for 3 additional seasons from September 2022.
Since September 2022, she is also Cheffe Associée at the Opéra de Dijon.
Guest appearances includes concerts with the Orchestre National de France, the Orchestre Philharmonique de Radio France, the Orchestre National de Lyon, the Hamburger Symphoniker, the Staatskapelle Halle, the Orchestre Philharmonique de Johannesburg, Orchestre National de Colombie, Orchestre National de Lille, Orchestre de Bretagne, Orchestre des Pays de Savoie, the Orchestre Lamoureux at Théâtre des Champs-Élysées…
In the lyrical repertoire, she conducted recently Idomeneo by Mozart at the Opera d'Avignon and Don Pasquale by Donizetti at the Opera de Dijon. She will soon conduct Stiffelio by Verdi at the Opéra de Dijon and Serenade by the French female composer Sophie Gail at the Opéra d'Avignon. 
Among her future commitments, in addition to her concerts as Musical Director and the productions as Cheffe Associée, she will conduct the Orchestre Philharmonique de Monte-Carlo, the Orchestre Symphonique Région Centre-Val de Loire/Tours, the Orchestre Philharmonique de Strasbourg, Orchestre Philharmonique de Nice and the Orchestre de la Comunidad de Madrid.
She works and evolves in the tradition and affirms that everyone must: "question constantly".
Concerned about delivering a message of peace, Debora Waldman conducted the concert "Thessaloniki, Crossroads of Civilizations" in honor of the Arabic-Israeli friendship.
In June 2019, she conducted the world premiere of the "Symphonie de Guerre" composed in 1917 by the French female composer Charlotte Sohy (1887-1955), after having found the forgotten score. Then, in July 2021, she conducted its Paris premiere with the Orchestre National de France at the Maison de la Radio. A first world recording of this symphony was made during this concert, in partnership with the Palazzetto Bru Zane.
This discovery was the opportunity to make a documentary and write a book "La Symphonie oubliée", the crossed portraits of the composer and the conductor, published by Robert Laffont in Mai 2021.
Her first disc with the Orchestre national d'Avignon-Provence "Charlotte Sohy, composer of the Belle Epoque" was recently released on the new label – La Boîte à Pépites / Recording Women Composers.