"How many female musicians have been waiting in the attics of history for a good genius to wake them up?".
The crossed destinies of Debora Waldman, conductor, and Charlotte Sohy, composer, a century apart.
During a festival dedicated to female composers, conductor Debora Waldman meets François-Henri Labey, former director of conservatory. He tells her about his grandmother, Charlotte Sohy, an unknown composer of the first half of the 20th century, and offers to show her some scores. Debora immediately falls in love with the story of this woman, who managed to reconcile her creative energy, her role as a mother of seven children and her love life – her work being closely linked to her husband's, the composer Marcel Labey.  Debora decides to create Charlotte's unpublished symphony, written during the First World War. Little by little, an unexplored continent of music is revealed to her: women composers who were nevertheless, for some, major figures in the artistic world.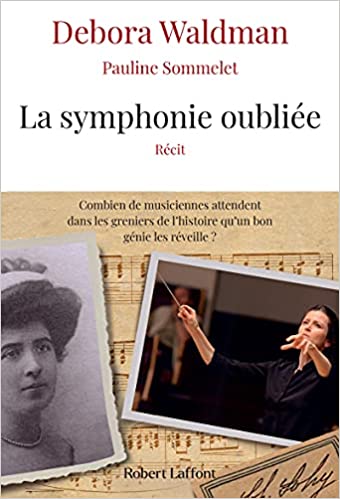 A formidable adventure in a symphony out of oblivion, this story traces the crossed destinies of two musicians carried by the same passion a century apart: two powerful women, whose history leads us from the cultural life of the Belle Époque to a kibbutz in Israel where Debora, as a child, discovered her vocation.
29/10/2021 - Powerful women: "La symphonie oubliée" by Debora Waldman and Pauline Sommelet
"How many musicians are waiting in the attics of history for a good genius to wake them up?"
Diapason
04/09/2021 - Looking for female composers
In an era hungry for new things, the history of music is written more and more in the feminine.
Le Figaro et vous
18/08/2021 - Two flames in unison
From kibbutz to Buenos Aires, her childhood was incredible. In France, the conductor Debora Waldman discovers almost by chance the little-known work of Charlotte Sohy. Music that she is trying today to tear from oblivion.
Telerama
19/06/2021 - "La Symphonie oubliée" : a female composer and her double
The conductor Debora Waldman and the journalist Pauline Sommelet revive together the forgotten memory of Charlotte Sohy.
Read on La Croix
06/06/2021 - To the great female musicians
La "Symphonie oubliée" by Debora Waldman and Pauline Sommelet
Le Nouvel Obs
06/05/2021 - "La Symphonie Oubliée", a book that rehabilitates the memory of the composer Charlotte Sohy.
Who knows Charlotte Sohy ? The work of this composer totally forgotte, student of Vierne and Indy, aroused the curiosity of the chief Debrao Waldman. And the destiny of these two women resonate in the a subtle and sensitive story written by Pauline Sommelet.
Listen on france musique